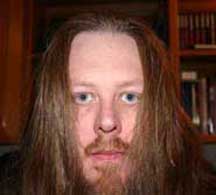 BIOGRAPHY


Dan Wickline made his first dive into the comic industry as a writer/publisher for Hardline Studios in 1996 with a comic called CREEPERS. With low initial sales, the second issue never saw the light of day and Hardline went on hiatus while Dan spent a year working with an established film producer on his property SATAN'S INC. When that project fell through, he switched back to comics and in 1999/2000 he wrote and published BLOODLUST and FORCE. But as with the earlier attempt, after three issues collectively Hardline Studios just could not survive as a publishing concern.

In 2001 Dan helped Brass Ring Productions put out an anthology called ANOMALY that included an eight-page story called LAPSE. Dan also had a five-page BLOODLUST story carried in the second issue of DIGITAL WEBBING PRESENTS. By the time the books saw print Dan had decided to focus solely on being a freelance writer.

The next year, he started going work for Avatar Press for their THRESHOLD anthology where he got to work with characters such as RAZOR, PANDORA and CORAL. Dan was also invited by former Hardline Studios alum Paul Benjamin to submit for the returning METAL HURLANT anthology from Humanoids Publishing. DRAGON OF THE NORTHERN PASS and SHELTER ME appeared in issues eight and nine respectively.From there Dan did the 'cut & paste' comic THE CONVERSATION through Red Eye Press, short stories in HERO HAPPY HOUR SUPER SPECIAL for Geek Punk and WESTERN TALES OF TERROR for Hoarse and Buggy Productions and finally the original graphic novel BLOOD-STAINED SWORD for IDW Publishing. Dan also participated in the two mammoth issues of EVENT HORIZON from Mam Tor Publishing.

Having just co-written 30 DAYS OF NIGHT: DEAD SPACE with series creator Steve Niles, Dan is currently working solo on a follow up 30 DAYS OF NIGHT: SPREADING THE DISEASE with IDW and will be taking on the new STRANGE CASES for Image Comics. Also soon to hit the shelves is the ACTOR charity graphic novel THE UNUSUAL SUSPECTS that brings back the 'cut & paste' format along with short pieces by 17 different artists.